As a company, everyone knows that growth is the ultimate goal. However, it can sometimes feel like a paradoxical situation. As small business owners, you understand that you have limited resources but big ambitions for your business. The only way to get to the next level is by investing in something that can give us a return on our investment. So how do you know which investments will grow your company?
The customer journey is messy, especially for something as trivial as buying a product online. In fact, research shows that just 25% of eCommerce visitors end up purchasing after visiting an online shop – and the number is low partly due to a lack of trust. Live chat support has become such a useful tool for eCommerce brands. Whether you sell products directly online or on a third-party marketplace, having chat agents can drastically boost your conversions and revenue.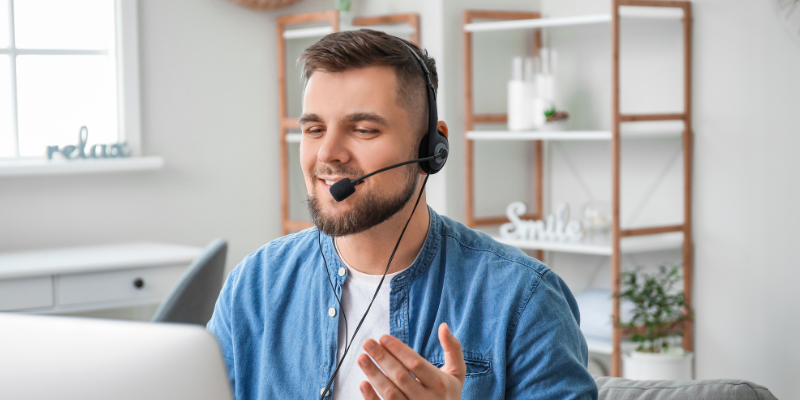 The Importance of Live Chat Support:
Many people think of chat solutions as a modern invention; however, it dates back to the 80s when airlines and hotels provided customers with prompt helpdesk services.
Nowadays, though, this tool has evolved to become a powerful sales solution. The latest stats show that 84% of customers would rather interact with a business chat than any other channel. The amount is truly staggering, so it is imperative that eCommerce businesses make the most of this opportunity.
One of the key aspects of using a chat system is that you can easily integrate it with your website or app instead of spending a lot of cost on operators. As a result, you can save a huge chunk of your budget with it.
Another major benefit of live chat is that it can be tailored to each customer. Your agents can talk to each person based on their specific needs, whether trying to track an order or troubleshoot an issue with their payment. You can make it more beneficial with the help of live chat outsourcing, which performs all the tasks while keeping your costs in check.
Help Grow Your eCommerce Business with Chat Support:
With so many customers turning to live chat as their preferred customer service method, brands would be foolish not to take advantage of it. One way to increase your online business is through chat services that convert more one-time web visitors into loyal consumers. You will likely find that the initial drop-off rate is significantly higher than anticipated.
According to one study, the number of people who leave a website without successfully checking out is about 69%. Imagine the volume of business you miss out on due to cart abandonment. On the other hand, outsourcing has come as a blessing for many brands. For instance, Americans search "live chat support service USA" to find outsourcing solutions near them. Having local partners will allow them to understand your business on a more personal level. So, support services are the best to expand your business.
Three key ways live chat can benefit your brand:
Increase Conversions with Customer Awareness

Build Trust with Consumers

Optimize Your Cart Abandonment
1. Increase Conversions with Customer Awareness:
If you have ever shopped online, then you have probably experienced the awkward feeling of having a salesperson ask you a question out of the blue. It is like they have no idea that you are trying to browse in peace, and they are just there to sell you their product. But live chat is different because it offers a level of awareness that phone operators can't match.
In fact, brands nowadays are relying on chat support to close sales. Businesses use chat agents to provide a shopping experience to their customers. For instance, sometimes people get stuck choosing between the size of a shirt or the better option between two headphones, and chat reps in such situations can help buyers make the right decision. However, please don't leave them with chatbots, as 86% of people prefer real humans to automated text.
This will show customers that you care about them compared to those who are focused on sales only. Happy customers are equivalent to higher sales. And happy consumers lead to a higher number of people. So, to increase your customer base, make the CX pleasant. Use your chat team to turn prospects into revenue.
2. Build Trust with Consumers:
Trust is the foundation key for any brand, and it has even higher importance for eCommerce businesses. You can boost your customer trust by making your responses prompt, which is easily doable with live chat reps. eCommerce businesses that offer 24/7 live chat support can help build trust by showing their presence for their customers whenever they need them.
Even when starting in the online market, you should still offer your services round the clock. Not only does it play a key role in building trust, but it also is crucial for helping customers with their issues. For example, say a customer gets in touch with you about an issue with their order. You might take a few days to fix the problem, but by then, the customer is already frustrated and has lost trust in your brand. Therefore, with the help of 24/7 services, you can respond to them instantly and show that you are always there for them. 
3. Optimize Your Cart Abandonment:
It is not just the eCommerce businesses who benefit from reduced cart abandonment – customers do too. Imagine you have been shopping around for a new pair of running shoes, but then you leave the site without completing your purchase. You might come back to the site later, but you have potentially forgotten about the product by then. So chat agents can jog your customers' memories and minimize the abandonment ratio by a great margin.
If a customer is looking at one of your products – but they seem hesitant – you can use the live chat to remind them of its benefits. In addition, your support team can also suggest a different product that might be more suitable for them. By helping your customers make informed decisions, you can reduce the number of items that get abandoned in their carts. 
Support Your Business with Outsource Live Chats:
Businesses now realize that chat support is influential in increasing revenues, especially for SMEs. Not only do you communicate effectively but also build trust, boost sales, and handle your abandonment ratio. However, it would be best if you only had experts on board as there is no room for error when it comes to customer interaction. Outsource Live Chats (OLC) is a big name in the support industry and has been empowering businesses for over a decade.
Online businesses demand to stay active round the clock, and we materialize that with our 24/7 solutions. On top of that, you receive prospects from all over the world, but not everyone has English as their primary language. Therefore, we provide your team with multilingual chat agents. Every business has a different budget and resources, and we offer a plan by keeping your account in mind. Before hiring us, you can achieve maximum satisfaction by signing up for our trial version. So what else do you need? Pick up your phone and reach out to us today to take full advantage of our exceptional chat services. 
For More Details: 24/7 Live Chat Practices for Businesses to Increase Sales