Live chat has been around for quite some time now and is an extremely helpful tool to increase sales. The most popular way that people use live chats is when they need help with purchases or product usage. However, you can also use it as a marketing strategy by promoting new products.
With the ever-increasing competition in eCommerce, it is more important than ever for your website to have an exceptional customer experience. Live chat is one tool that reduces the response time by a huge margin, resulting in boosted sales revenue with instant access.
Some people are under the impression that live chat is only used to handle queries and concerns. This guide will show you how to use this channel to bring you profits.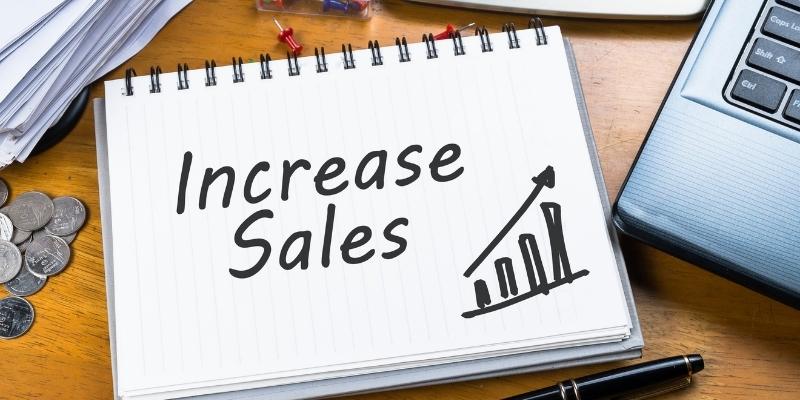 How to Increase eCommerce Sales?
Brands that take advantage of live chat support are able to provide an additional service to their customers. With the perfect strategy, this can become a money-making machine that drives more conversions and ultimately creates better CX overall with boosted sales.
To multiply your conversion rates, you need to utilize live chat practices. Here are some of the most effective ways that can help: 
Provide 24/7 Availability to Consumers

Gain Insight

Offer a Personalized CX

Optimize Your Checkout Section

Maintain Follow-up Sessions
1. Provide 24/7 Availability to Consumers: 
As a business owner, one of your biggest challenges is keeping up with the customer demand. But, how can you meet all these requests? Live chat support is the right solution. You can connect with your customers during the day, after office hours, and on weekends. 
Your customer service team must be able to communicate with potential and existing customers at all times of the day. Some people shop at various times from different places. That is why it is vital for your brand to stay active 24/7, so you do not miss out on any prospect. 
2. Gain Insight:
Chatting with your customers is a great way to get insight into their experience. You can find out whether you were able to resolve their issue or not. Moreover, you can also check their satisfaction level with your product or service. Their feedback will help you to improve your quality. 
One of the best ways to provide clarity and answer any questions your customers might have about their purchase is through this mode. You can use this customer service tool that gives you an opportunity not only to find pain points but also to interact with them in real-time.
If your customers ask about the science behind a product or its material source, reviewing what is written in-depth on the website may be beneficial. You can also provide videos that show how your product or service works.
 3. Offer a Personalized CX: 
Customers want a personalized shopping experience tailored to their needs and interests in the modern age. They are looking for someone who will listen, watch them closely and offer a product that is customized as per their interest. 
Personalization is a powerful tool for marketers because it makes the difference between success and failure. Timing your advertisement correctly and choosing what is most relevant to consumers tell how to increase sales and keep your flow consistent throughout your customer base. 
The flexibility of the live chat feature allows you to appear on any page and customize your message for a specific reason. The best way to sell is by providing value-added information your prospects are looking for. This will help you reach the right customers and make them buyers.
You never know when your customers may need you, so you must have a proactive approach to ensure a premium CX by providing the information necessary. If a customer reaches clueless, feel confident in guiding them toward finding what is needed on your website.
4. Optimize Your Checkout Section:
Brands spend a lot of time perfecting their checkout process. This is because they know they will swim in money when customers make purchases. However, the cart abandonment rate is a concerning statistic when looking at how many customers leave after checking out. No matter the number of people who have already finished shopping on your website, more will not do so unless things are reworked and optimized.
One of the best ways to ensure your customers are satisfied and have a great experience with you is to support live chat on checkout pages. Users can ask questions while checking out, which will help them make their decision much easier.
Using live chat on checkout pages has proven to be a successful strategy for some marketers, but it is not without its risks. You need to focus on payment processing when implementing an e-commerce platform. 
The customer does not want any distraction when they are in the process of deciding or making a purchase. So, all possible avenues for distraction must be removed as this increases their chances of completing transactions smoothly without any issues.
You can have a live chat on your checkout pages by simply inserting an interactive button in the visible place. This will not pop up by default, so you will never miss out. Clicking this button will bring you straight to an expert who can answer all your questions in no time.
The way to get good results is by taking risks, and if you are not willing to do something, then that just is not going to happen. You can strategically decide whether or not your actions will increase sales with the chat option on checkout section. 
5. Maintain Follow-up Sessions: 
It is a great way to get in touch with potential customers and see if they have any feedback about your service. You can also use this as an opportunity for follow-ups after the chat has ended. So do not think your chance with the customer has ended after the conversation, but it has just begun. 
Points to keep in mind when carrying out a follow-up:
Inform prospects about your brand

The reason for getting in touch

Refer to chat history

Update them with deals

Provide omnichannel support
Increase Sales with DOS' Customer Support Teams: 
The internet is a valuable tool for any business that can increase exposure, draw in customers, and stand out from competitors. With live chat, you can engage with potential customers in a much more personal manner. It is an excellent tool that can help your brand reach the heights of success by bringing in new customers. 
The modern-day market is tough, but it does not have to be impossible. With these tried and true tips for increasing your online sales, your brand will be well on its way.
Outsource Live Chats is an excellent company that ensures efficiency and promptness. We allow you to provide the 24/7 service that your prospective clients need and make them feel more connected with the company through instant communication. You can also use our tools to personalize a plan that will do wonders for your brand. If you are confused about anything, reach out to us right now. 
The best way to increase brand sales is through live chat. The system allows you the opportunity for immediate feedback, which in turn increases customer loyalty and retention rates by giving them what they need. It is most required to provide instant solutions like shipping times or address correction requests among a plethora of other queries or concerns.